1st European Conference for Religious
Dialogue and Cooperation
October 14-17, 2019 Struga, North Macedonia
THE ROLE OF RELIGION IN PEACE AND CONFLICT
One of the key questions that contemporary sociology is faced is what exactly is the role of different religions when conflicts emerged between civilizations, ethnic groups and states? How do religious individuals and groups use their power in a development tending toward either peace or conflict? Sociological, philosophical, anthropological, historical, psychological and theological approaches are welcome in this Conference to contribute in an attempt to answer on these questions.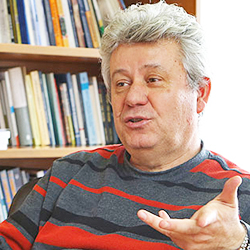 Religious fundamentalism most often manifests as a politically-religious ideology that entirely or partially rejects the ideas of cultural globalism. Those ideas being the phenomena of: religious tolerance, ecumenism and neo ecumenism; secularization; modern achievements in science and technology. They are for various reasons not compatible with the doctrines and practices of religious fundamentalists and extremists. Out of all the Universalist religions, Christianity, Islam and Buddhism have shown to be the strongest forces of globalization in the postmodern era. The sudden and constant demographic growth of Muslims worldwide leads us to the assumption that Islam might become the strongest religion of globalization. On the other hand, fundamentalism represents a type of an answer to the challenge of globalization. The idea is to establish a moral system of religious and traditional cultural values. The biggest problem of religious fundamentalism and extremism is the idea that only the cultural traditions of Muslim civilization and Sharia law are acceptable. 
Submission of final papers : March 1, 2020.
Please note, the final papers must be prepared according to the Instruction for authors.
Accommodation and Transport
The cost of travel and accommodation have to be covered by the conference participants. We offer organized transport from Skopje Airport to Hotel Drim in Struga. For participants of the conference, Hotel Drim – www.drim.com.mk offers reduced prices for accommodation with included meals. 
You can make a reservation at the following address:  ana.jancheva@drim.com.mk